Start bringing your store to life by adding your pretty things for people to buy! We'll split this into petit-four-sized sections. Because, in the wise words of Sweet Brown, when it comes to scrolling your way six kilometres down:
We've used Polkadot Box for the illustrations in this guide. Go check her store out, it's super cute.
Jump to:
---
1. Click the Add a Product menu link
To add a product, click on Add a product in the red menu bar at the top of your screen.
You'll only see this link or be able to add a product once you've set up your store. And if you don't see the green seller menu even after you've set up your store, it means that you aren't login, so head on over to the login page.

---
2. Add some photos
Add up to 6 photos of your product. These are a winning way to communicate your product to your customers, and ultimately sell.
Your pics are arguably the most important thing when it comes to selling online. They must be clear and bright, there should ideally be a few different views and angles of the product, and they should show details, eg stitching and finish. Read our photography tips for if you aren't planning to have a professional photo shoot done.
Once they've uploaded, you can drag the photos to arrange them in the order that you prefer. 
If possible, use square photos and be sure to use the little drag handle on your feature photo to select the area of the photo that you want to show in thumbnails like your store page and search results.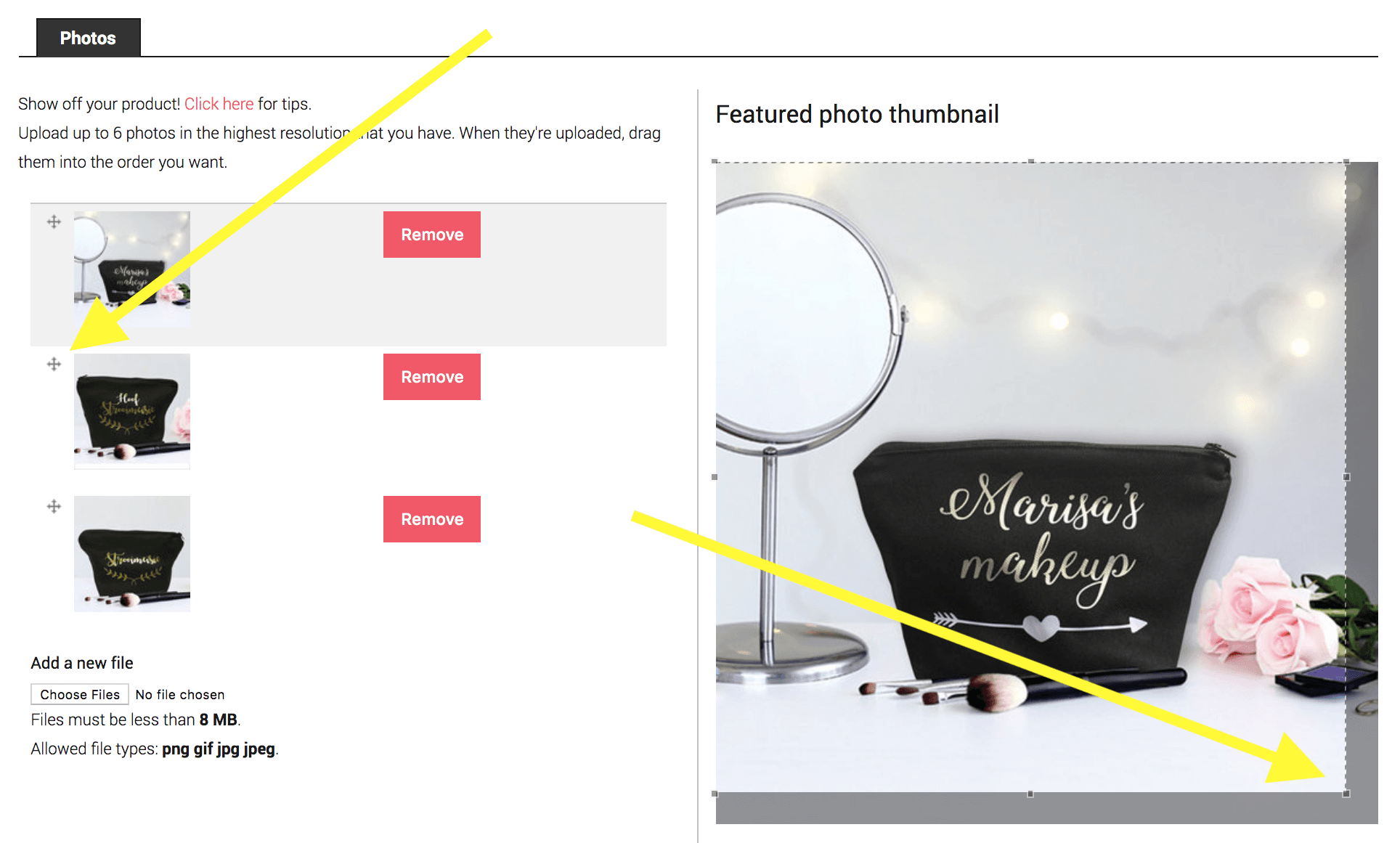 ---
3. About the product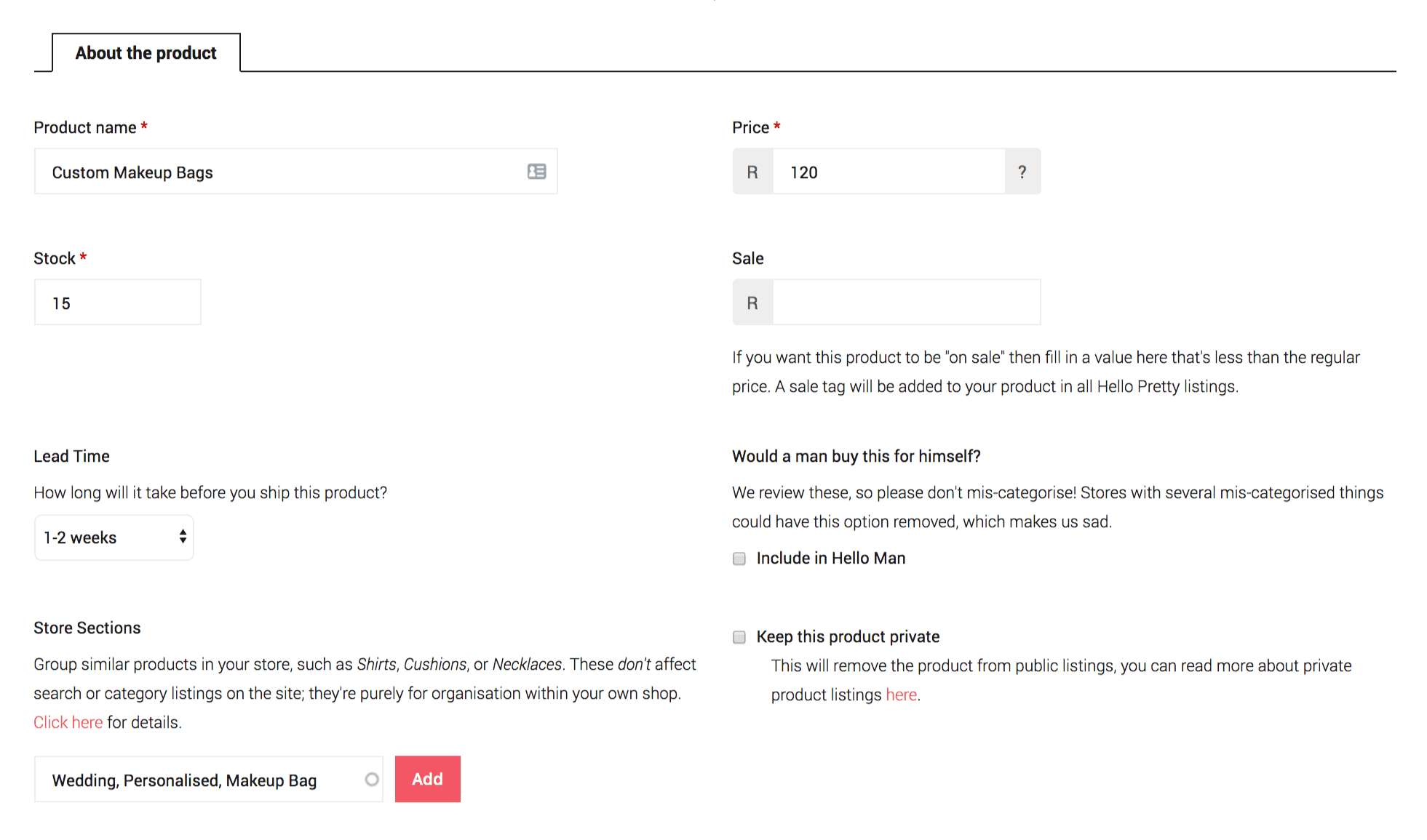 Product name: This is very important and also a great opportunity for you. Your product name helps search engines like Google to find your product, and it also helps your product turn up in searches on Hello Pretty itself.
As an example, Bow Tie Option 5 is not a particularly strong product name. It is too generic and not specific enough. An example of a better option would be Ladies Pre-Tied Bow Tie in Red Polka Dot (Cotton). Just be sure not to make your title spammy by using words just to get into search results. Both Google and our systems do pick this up and it can cause your product to rank poorly in listings.
Price & Stock: Add the price, and the stock quantity. If you're selling one-off pieces, your quantity should be left at 1. If you make the item to order or regularly restock, set it to an arbitrary high number like 99999. This way the item won't incorrectly appear as sold out and cause you to lose out on sales.
If you need some guidance on how much to sell your product for, have a look at our help page on how to figure out how to price your product. It's also always a good idea to do some research on what similar products sell for.
Sale: Is your product on sale? If it is, add the sale price here. If the regular price is R500 and you're selling it for R150 off, then fill in R350. This is how the Buy section on your product will look to customers: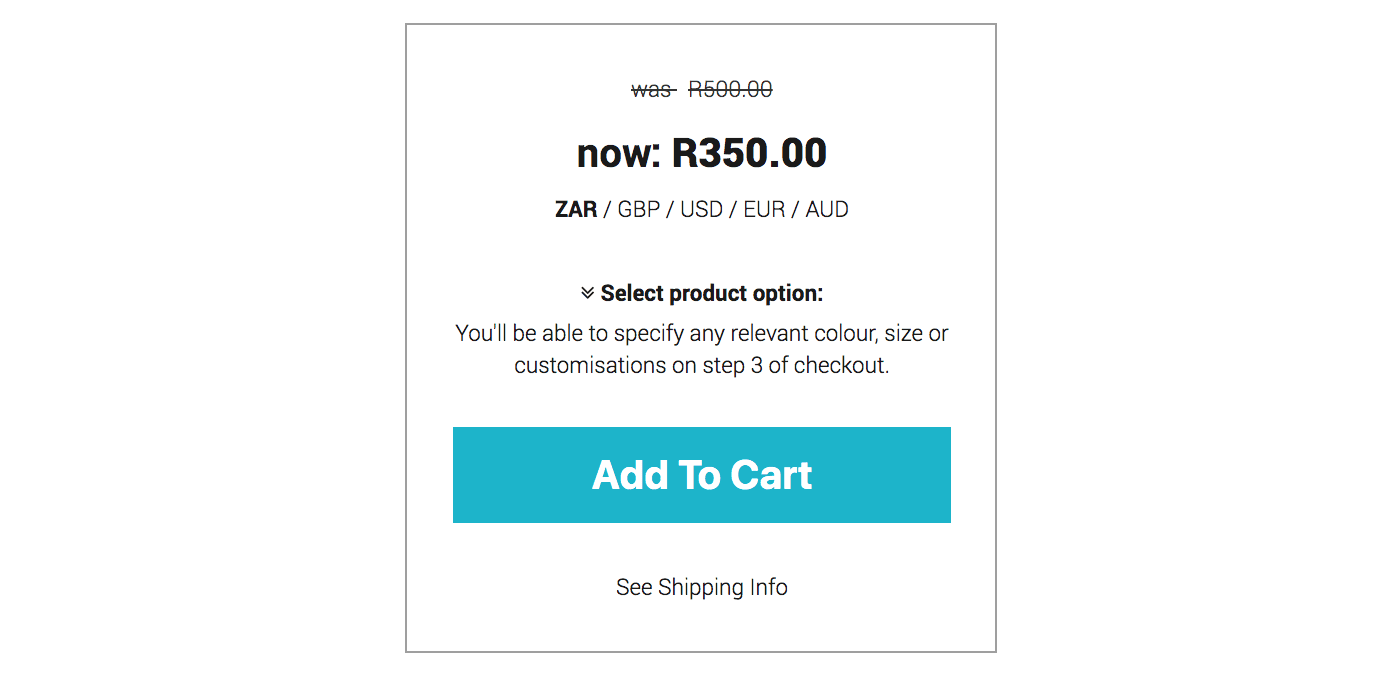 Your product will now also appear on the Sale page of the website. If you're considering inflating your price and putting it on sale to make it show up on the sale page, please don't. Customers will know (as will we), and it will cause them not to trust you or want to buy from you.
Lead time: this is how long it will take between when the customer made the purchase, and when it ships. This is unrelated to how long the product will take to reach them after you've shipped. If this is a handmade personalised makeup pouch, for example, it might take you a total of 10 days before you get it sent off. In this case you'll want to use the 1-2 weeks option. 
Would a man buy this for himself?: Hello Man is Hello Pretty's exclusively male-interest boyfriend site. If your products are something that a man would buy for himself, check this box and this product will automatically appear on the Hello Man site at no extra cost or effort.
Please note: Final discretion as to which products will be listed on Hello Man lies solely with the Hello Pretty team. Anything added to Hello Man that isn't male interest will be removed and is a laborious task for the Hello Pretty team to keep up with. Repeat offenders will unfortunately be blocked from adding to Hello Man. Sorry! Also, some stores won't see this option either if, when being reviewed, it is clear that they aren't male interest.
If you're unsure whether your things are right for Hello Man, get in touch. So you know, just because one could loosely connect a product to a man (eg some sexy lingerie) does not make it male interest. Hello Man products must be things that would appeal to, and be relevant to, a male shopper and they must be something that a guy would buy for himself. So not a babygrow: he might be buying it for his own kid, but unless this is something that he would wear himself it doesn't belong on Hello Man.
Store sections: Group similar products in your store, such as Shirts, Cushions, or Necklaces. These don't affect search or category listings on the site; they're purely for organisation within your own shop. We have a more complete explanation with some pictures on the shop sections help page.
Keep this product private: if you're on the Standard plan you'll have an option to keep the product private. This means that it won't be listed in your store, in search results or anywhere else on the site but it will still be buyable. Anyone with a link to the product will be able to see and buy it. Find out more on the private products help page.
---
4. Product description

This field got its own main section because it is so interesting to think about how to use it.
People don't buy products, they buy better versions of their life. You aren't just selling a little black dress – you're selling something that will make a girl feel confident, classy and beautiful at her next work function, date, party, whatever. Tell people just how your pretty thing will be a great addition in their life. This article will help you make it wonderful.
Also in the product description, add any relevant additional practical details. The more detail the better. Suggested information would be dimensions, materials used, packaging info etc. 
---
5. Delivery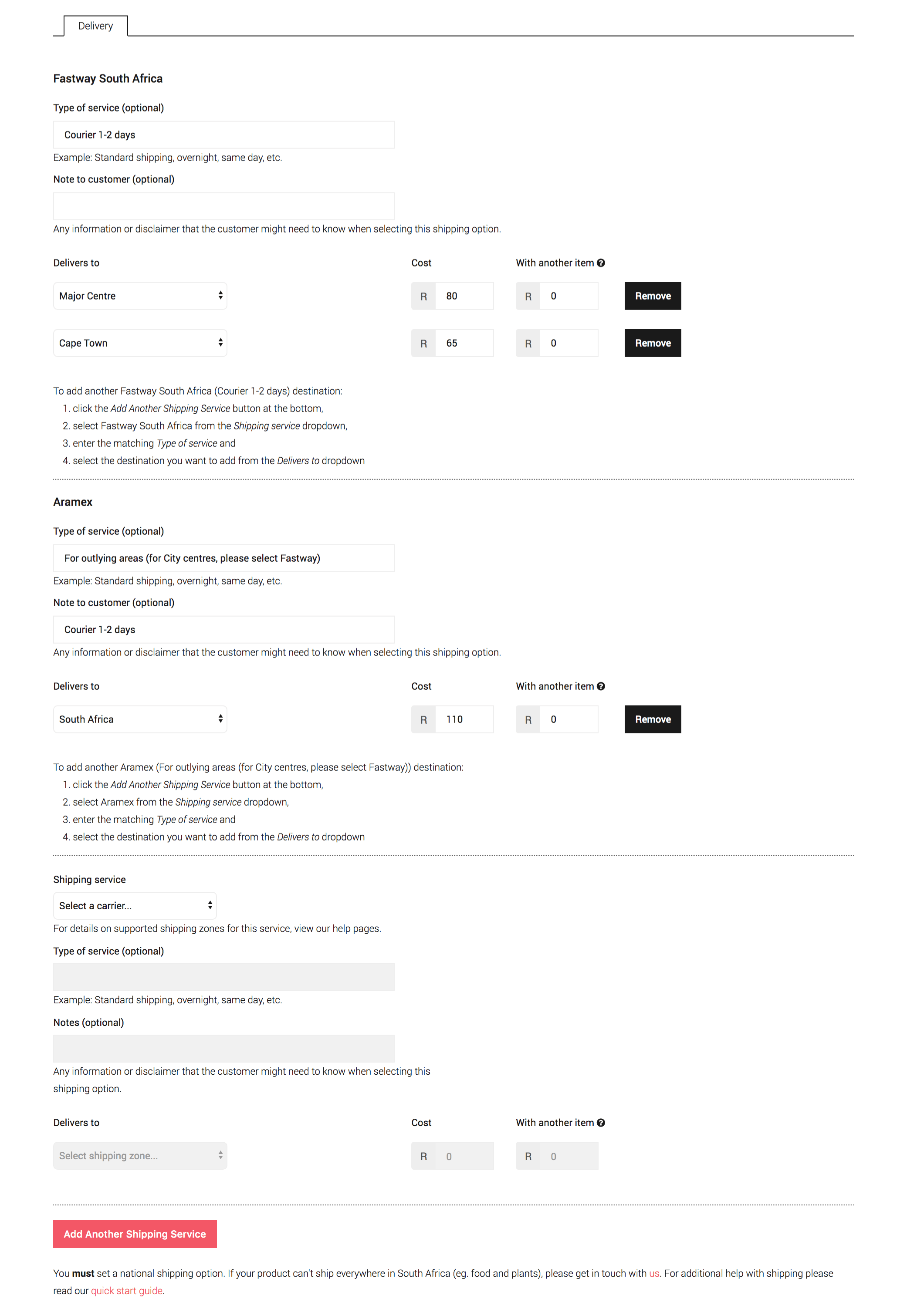 What you fill in here is what will show up to shoppers on your product listing shipping tab, and also on the checkout form when they're purchasing from you. The best is to have set up your store shipping options (shipping profile), because that will automatically set the shipping on every new product you add and make your task a lot easier. You can override these on a per-product basis too. Everything is cleared up and ironed out on the shipping options guide.
---
6. Calculated shipping

The calculated shipping section is what allows you to offer customers the courier options that are integrated into Hello Pretty, and that run entirely through the site on our account (ie you don't have to open an account with the courier). Currently we have Pargo offered – read about that here.
---
7. Dimensions & weight

Currently, while these values are there for you to fill in, they're not being used anywhere. It's a good idea to fill them in though so that when we get more courier integration fired up on the site, your things will be good to go for automated collection requests.
---
8. Categories

What kind of product is this? Select one option from the list on the right. In some cases, when you select a category, a selection of subcartegories will flop out down below. If necessary or relevant, you can also select a subcategory within. This will determine what category page of the site your product is listed in. In cases where no subcategory is relevant, please don't select one for the sake of selecting one. This is spamming our search results.
Please make sure to choose your category carefully! Don't choose unrelated categories! All this does is clutter up search results, and make it hard for customers to find relevant products that they're actually interested in.
The spot on the left with Kids, Men and Women is independent of the main site categories. Once again, please only select any of these if they're absolutely specific. For example, babygrows shouldn't ever have anything other than Kids selected. Lingerie should only have Women selected. Most men don't wear lingerie, so don't check that Men box, no matter how tempting it is.
---
Now, click Save product and you're done! High five. Time for you to get your customers buying this baby 🛍