Hello Pretty's advanced shipping options allow you a lot of flexibility in how much you charge to ship your orders, and allowing you to offer your customers a choice of shipping methods.
As with anything that's more advanced, it'll take a little longer to get used to but will be well worth it. Happy customer happy seller.
Apply shipping options to everything in your store, all at once.
Hello Pretty allows you to set shipping options in one place, and apply them to everything in your store. You can also put custom shipping options on a per-product basis that overrides your defaults.
To set up your defaults, have a look in the green seller menu for the option that says Configure Shipping and click that.
A new option in your store is the Processing Time setting. Buyers like to know when to expect delivery of the item they're buying from you. This setting will help manage expectations and keep everyone happy. The buyer will see this information on the Shipping tab on the product, and again when they're checking out.
A cautionary tale about the South African Post Office
Look. We don't want to strike fear into your hearts or anything, but…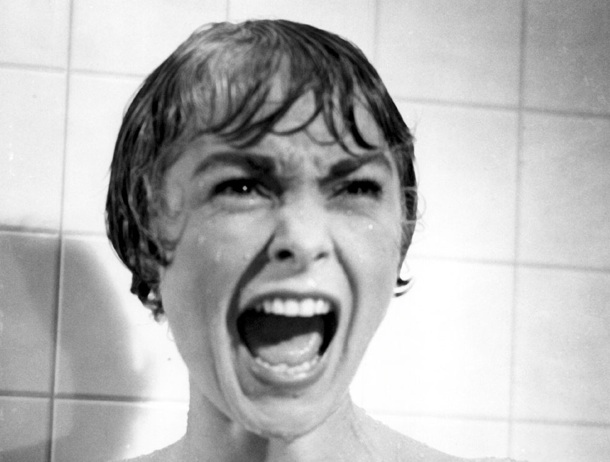 With tears in our eyes we implore, do not use the post office for any domestic deliveries. They are unreliable, frequently go on strike, lose or damage parcels, and cost only in the region of R20 less than using a door-to-door courier service. For your own sanity, and that of your customers, and to not cause the Hello Pretty team to develop a drinking problem, we suggest in the strongest terms that you sign up for an account with a courier. Click here for a directory of South African couriers.
In our experience, using the SA Post Office for international orders is the best way to go, but you must send it with a tracking number. It's the Hello Pretty law, friends. We have some info for you about the post office's shipping costs and what not over here.
Now with that out of the way…
Shipping Defaults
Before you have set up any of your advanced shipping options, the default listed shipping method will simply be called "Standard Shipping". You should set to work setting up some proper options now. You'll want to make it crystal clear to your customer how their parcel will be getting to them.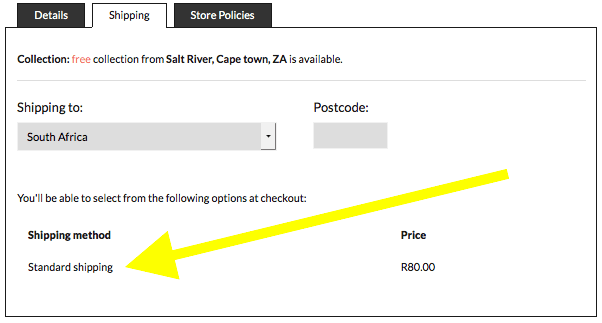 Ok. Onto the magic. Buckle up.
Adding your first shipping method: multiple options on the same service
On your shipping settings, before you've added your first options, you'll see this: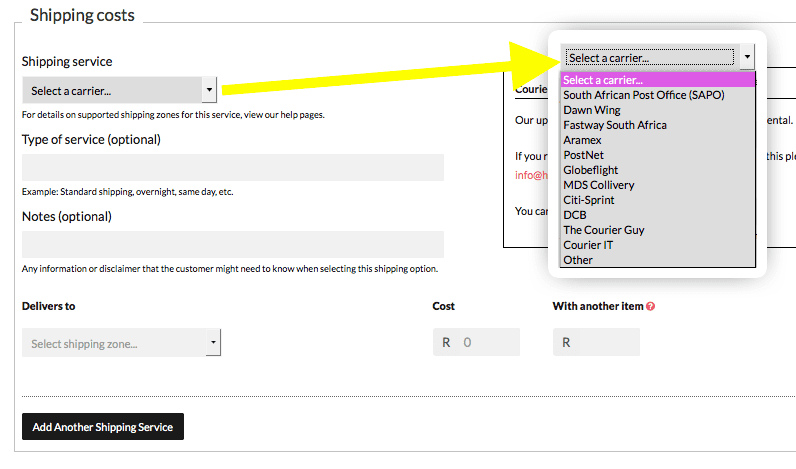 Select the service you'd like to add. For the purposes of our example we'll use RAM Couriers. Hello Pretty's shipping system has pre-added all the most commonly used services into the dropdown. For those using something not in this list, select the Other option and fill in details on the notes.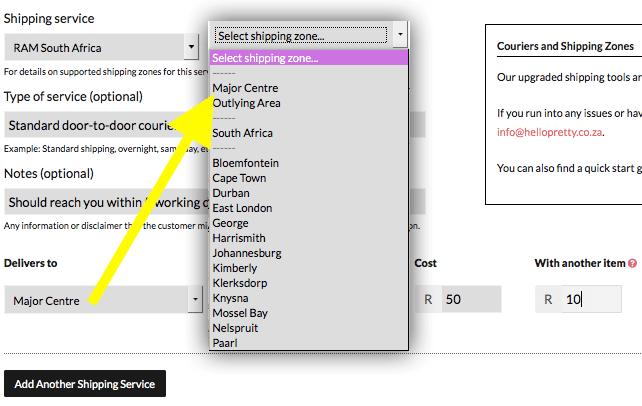 Type of service:
Some couriers may have different options, for example regular vs overnight. You can use this field as we have to describe the service, if necessary.
Notes:
This field can be used for anything that you like. In our example, we've used it to tell people approximately how long it will take to get to them.
Delivers to:
Most commonly, you would only be using either the South Africa setting here, or set the Major Centre and Outlying Area options. In some cases on the site it would make sense to offer different prices for different cities, though this is uncommon.
Delivery charges levied by many couriers are different depending on whether you're sending to a major centre (eg Cape Town), or a more outlying one (eg Oudtshoorn). If you set the value for South Africa, then all your customers countrywide will pay the same shipping price, whether they're in Sandton or a farm in Springbok. However, by using the Major Centre and Outlying Area options, you can offer different charges for shipping to different areas. There's intelligence built into Hello Pretty's shipping tool that will auto-determine if someone's in a major centre or an outlying area based on their postal code.
We've gone ahead and set the Major Centre to begin with. To send the parcel to a city like Johannesburg, for example, will cost R50. We'll set the With Another Item value to R10. For an explanation of what this setting is, click here.
Next we'll need to add an Outlying Area option. Click the black Add Another Shipping Service button, and a new area will auto-load one that looks the same as the one you already filled in.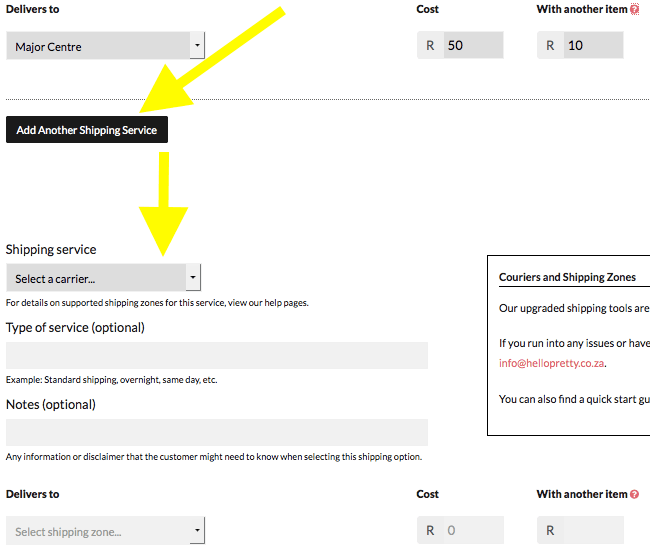 At this point, because you want this to be connected to your RAM South Africa courier, you must select RAM South Africa from the Shipping Service dropdown again. Then, follow through the same steps as for the Major Centre, and simply select Outlying Area from the Delivers to dropdown. The Hello Pretty system will match your Major Centre and Outlying Area values up together and on your product shipping tab, display the correct option to your customer in one line.
You'll see the rates we've set here are more than those we set in the Major Centre line item, because RAM charges more to ship to these areas.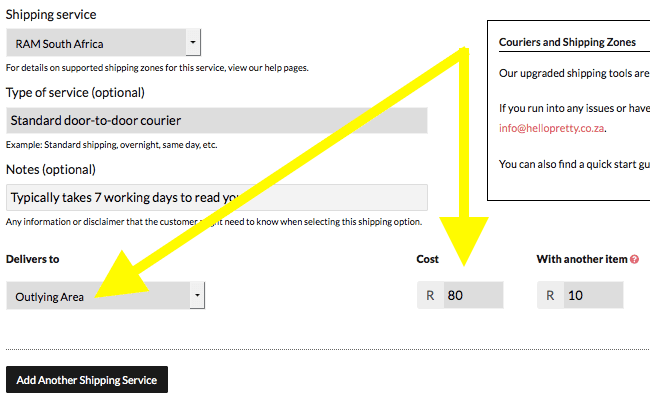 This is what a customer viewing your product will see on the shipping tab by default: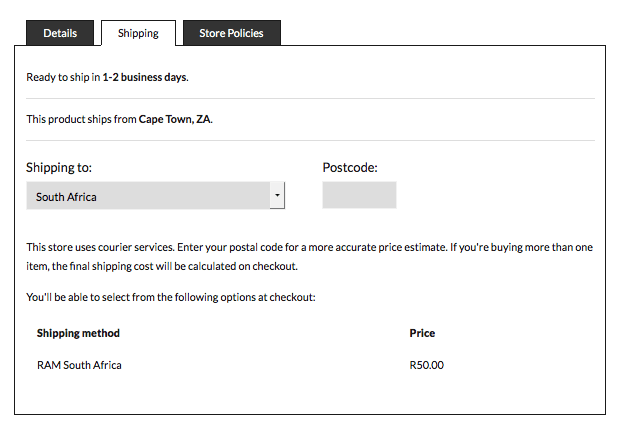 This is what a customer viewing your product will see on the shipping tab when they enter 6625, the postal code for Oudtshoorn: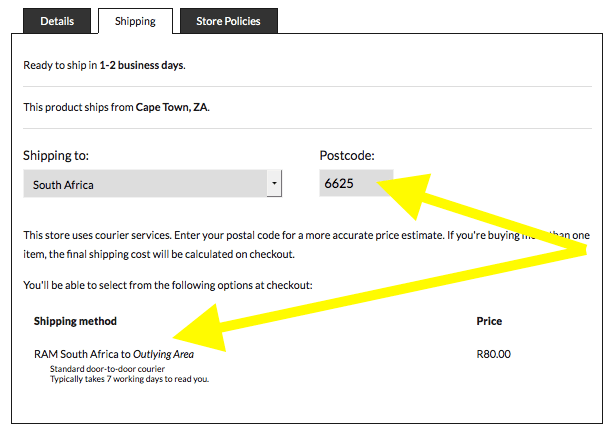 When you save your shipping options and return to your shipping management page again, this is what the RAM South Africa section will look like: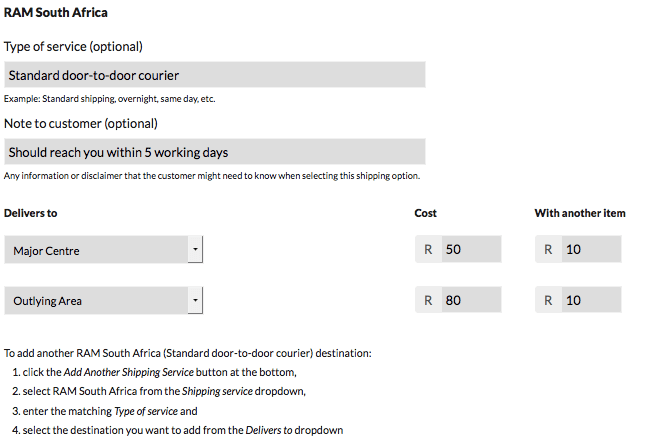 Adding another shipping service (eg International)
You can follow the steps above and add an unlimited number of options (though you most likely won't want to). But of specific importance, you might want to cater to shipping of international orders. As we mentioned above, you'll probably want to use the SA Post Office for this. We detail costs and some important things to know about using the post office over here. It's worth a read.
So, follow these steps:
1. Click the black Add Another Shipping Service button.
2. Select the South African Post Office (SAPO) option from the dropdown.
3. In the Type of service field, you might want to add something like, for example, "Registered international airmail" from the dropdown.
4. In the Notes field, you might want to add something like, for example, "Should reach you within 2 to 3 weeks of shipping. Costs & delays relating to your country's customs are out of our control". It's a good idea to disclaim yourself on the customs and duties charges that they might be levied by their own country, since those things really are out of your control.
5. In the Delivers to field, select Everywhere else, or whichever option is relevant to what you're adding.
6. Set your prices, and hit the black Save button down at the bottom.
Removing a shipping service
Let's say you don't want to use RAM South Africa anymore because you've opened an account with a different courier.
All you have to do is click the black Remove button next to each option you have listed under RAM. When you click the black Save button down at the bottom, all traces of RAM South Africa will be removed from your shipping options, both on the Shipping Options page and the shipping tab that customers see on products.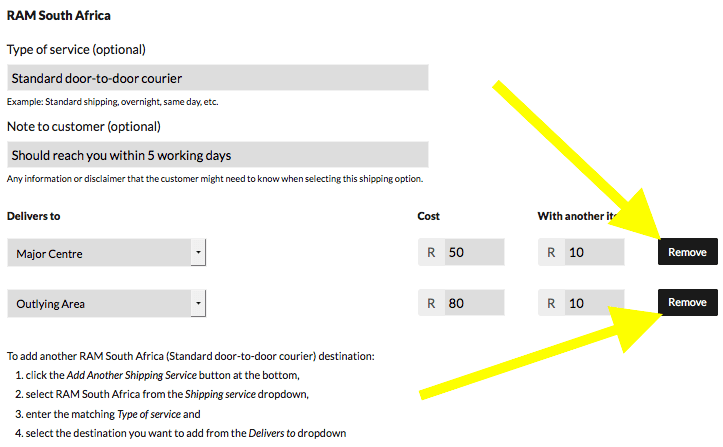 We understand that this is a lot of information. It's a new service and we're already working on ways to make it even better. But if you're stuck or confused, or have found a bug, please get in touch with our team at info@hellopretty.co.za.
Frequently asked questions
I sell digital products that don't need to be shipped, can I disable shipping on my store or products?
No, you can't disable shipping. We recommend using the following settings to make things obvious for customers.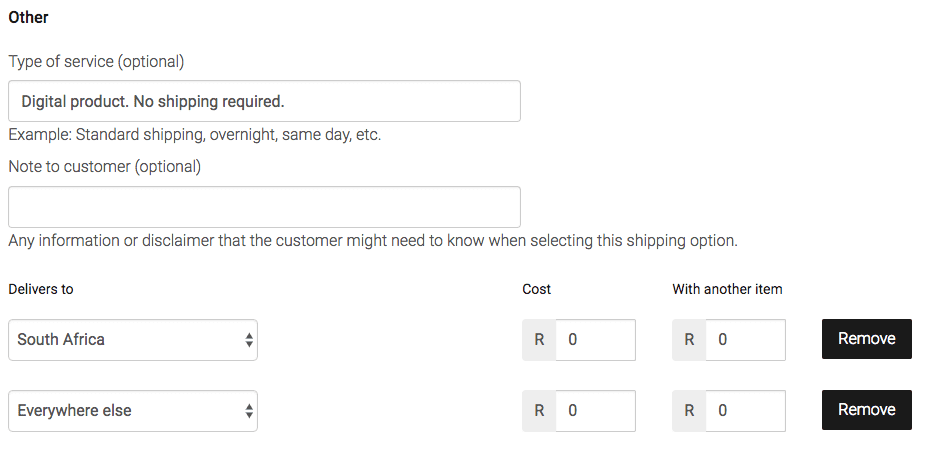 Why do I have to ship country-wide?
We have a fairly strict policy that all products sold on Hello Pretty must ship country-wide. The reason for this is simply the customer experience — it's frustrating to be shopping and find out you can't buy half the products you're interested in because they don't ship to you.
But the products I sell can't be shipped nationally.
If you sell something like plants, baked goods, or anything else that's ultra fragile and can't typically be shipped by a courier then send us a mail and we'll setup your account to support only local shipping.
And now here's some cake to reward you for getting through this. You're a strong wo/man.