I live in Cape Town. It's not a bad place.
World Design Capital 2014, home to mountains, beaches, vineyards, and more. One of my favourite things to do on the weekend (and on the occasional weeknight) is visit one of Cape Town's many markets. They're great for finding favourite new designers, delicious food, and craft beer. But, every time I'm there, I get sidetracked thinking about the business mechanisms behind the scenes.
Marketplaces are a very particular entity, and there are a lot of things to consider. Which stalls will make it, and which won't? Is there a recipe for success? How do they know what the right price point is?
This always makes me think of my friends over at Hello Pretty, and how their site is effectively a giant online market comprised of a number of independent stalls, and how the same things must be considered. (And, the fact that they have an edge over a physical market because you can shop there without the Cape winter beating you into submission!)
Hello Pretty? Hello Marketplace!
Hello Pretty is an online marketplace, and not an online store.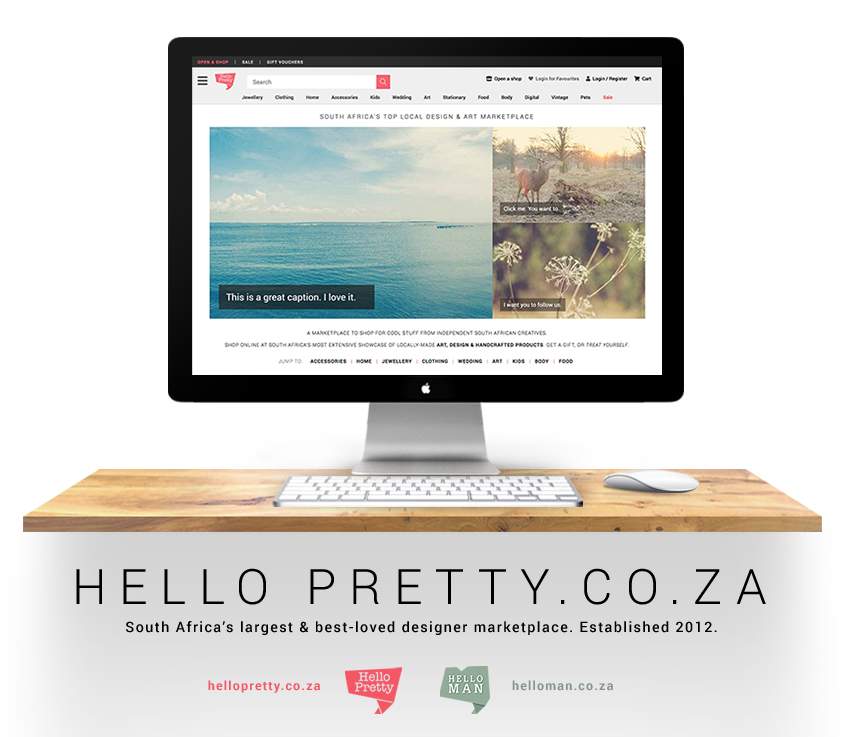 A lot of people don't realise the difference. The crux of the matter is that they don't sell anything themselves – they provide a platform that allows other people to sell. The onus is on the sellers to build their brands, while Hello Pretty provides a platform for them to do that.
There are a few key points to remember for both sellers and buyers.
Here's a cheat sheet for both:
Skip to:
---
1. Designers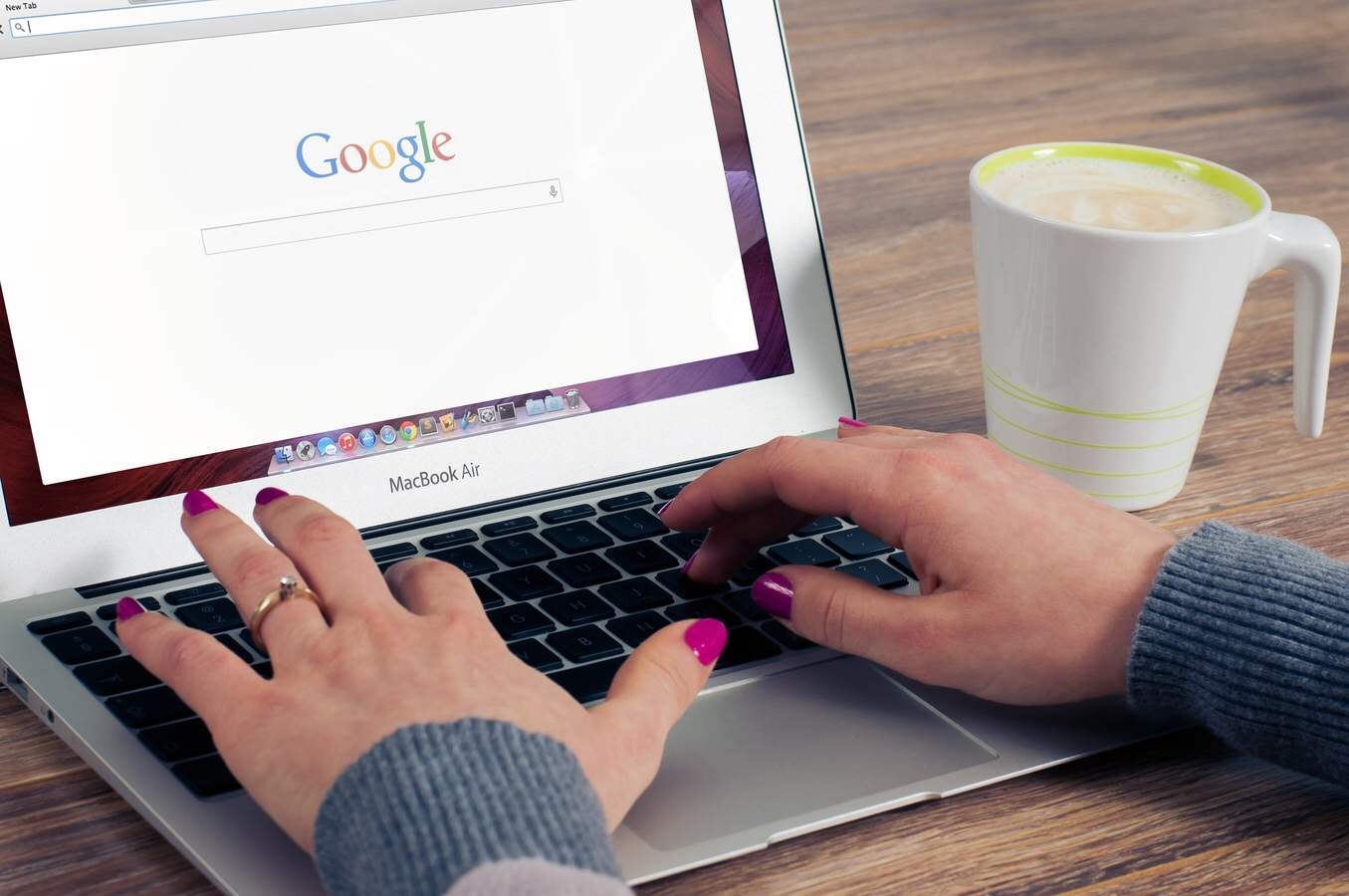 a. Setup is quick and easy.
Your "table" at an online marketplace is easy to set up – your products are immediately on display and people can browse and buy straight away. No need to know how to build a site, or set up a payment processing system – everything is there for you.
---
b. Traffic
Team HP works day and night to promote their marketplace, and the businesses selling through them. They write blogs, are ever-present on social media, attend events, and keep up to date with what you guys are up to. You benefit from their sizeable website traffic and marketing efforts. However, as with a physical market, the onus is on you as the designer to promote your brand.
Remember, if people don't know your store is there, they aren't going to buy from it.
---
c. Strength in numbers
Just as small shops like being next to big shops in a mall because of the spillover traffic, the same principle applies to stores on Hello Pretty. A shopper may come to the site looking for one thing, but while they're browsing, they will come across other things they like – hopefully yours! There's something counter-intuitive to remember: other stores are not competition – they are helping you by bringing feet through the door.
---
d. Your brand stays your brand
Hello Pretty has their brand, and you have yours. They will never tell you how to run your brand. You get to reap the benefit of the Hello Pretty brand, while maintaining your own identity. However, they're always on hand with advice when you need it.
---
e. Choose your own pricing
Want to price your MacGyver themed mugs at R10 000? Go for it. (Although, they'll probably sell better at a lower price.) Hello Pretty won't ever prescribe your pricing or policies – but they'll gladly help you figure things out if you aren't sure.
---
f. Keep your stock & maximise your profit margins
Hello Pretty doesn't keep any stock, and this will never change. Even if they wanted to they couldn't, as there are so many stores! They exist as a platform for you to sell your things, and not to sell them themselves. So, you get to keep control of everything in your shop, including managing your own stock.
The upshot of is this that you don't have to sell your hard work at wholesale prices, or hand it over on consignment – your products should be listed at their recommended retail price on Hello Pretty.
2. Shoppers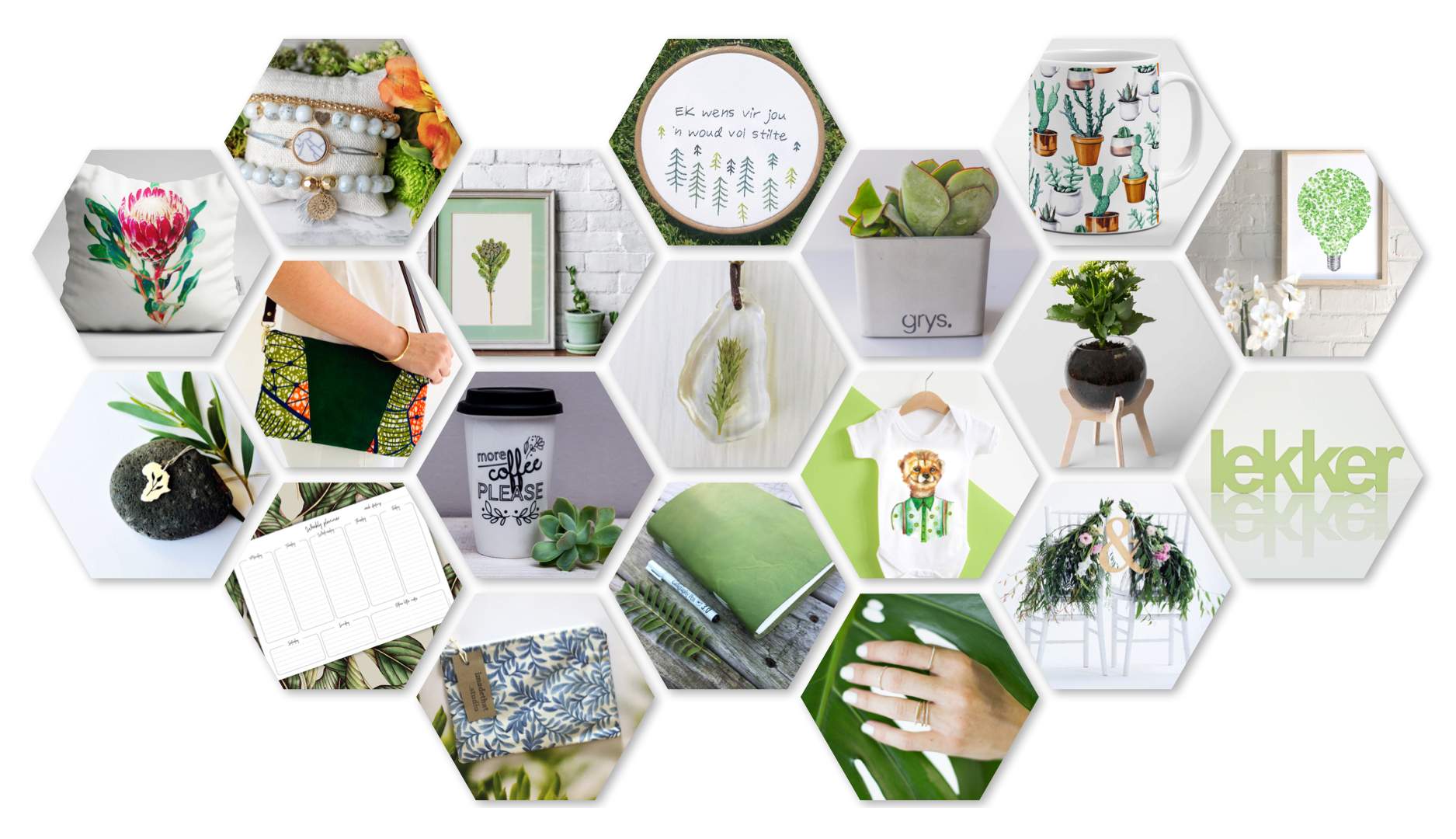 Shop for the dreamy items in our picture at: Ampersand Chair Sign by Papermoon, Periwinkle Zipper Pouch by imadethat.studio, Cacti Party Mug by But Why Not, Clutch / Sling Bag with Leather by We All Share Roots, Charlie Baby Grow by Mermaids & Monsters, Embroidery Wall Hanging by Create.the.Light, Green Brunia Print by Teebird Designs, Fern Bulb Print by actuallyashleigh, Coffee Travel Mug by Sugar and Vice, Wooden Lekker by Bokke & Blomme, Protea Cushion by Lulu Designs, Howlite Bracelet Set by Lakota Inspirations, Weekly Planner by To the Moon & Back Paper Studio, Fynbos Resin Necklace by Sea & Shore, Small Concrete Bowl by Grys., Leather Journal by Savvar, Botanical Africa Necklace by Jessica Jane Jewellery, Stackable Brass Rings by Adjani, and Pot Plant Holder by Native Decor.
a. Spoilt for choice
You get to browse over 11 000 products and have them delivered to you! The future is here, and it's pretty awesome.
If you're struggling to find what you're looking for you, want something custom made or have a question, you should contact the team. Be sure to give as much detail as possible – telling the team you want to buy a silver ring you saw isn't going to be helpful, because there are hundreds of silver rings on the site. Rather say something like that you're looking for a silver ring with a little bow, or a thick-band silver ring with a ruby gem.
---
b. Stores are run independently
Every store is run by the designer themselves. This means that your order will be handled and fulfilled directly by the designer. You're buying your goods straight from the source, and supporting South African businesses while you're at it. So, if you have any specific queries then they're who you should contact.
---
c. Prices and shipping costs are set independently by the designers themselves
Hello Pretty runs the infrastructure, but doesn't prescribe pricing or policies. While they can help you source an item, they can't give you discounts for purchasing more than one item, or send all your items in one go when you're buying from a few different designers at once. Much like a physical market (eg the Neighbourgoods market), when you buy from several different stalls, you have to pay each stall individually.
Having said all of this, Hello Pretty does facilitate wholesale orders and if you're looking to place a wholesale order, you should drop them a line.
---
d. Each store's goods are checked out separately
As above, when you browse through a market, you pay every stall you buy something from. You don't take what you want and then go and pay the owners of the market. The same principle applies with Hello Pretty. If you have several items from different stores, you will have to pay the piper (or the store owners) individually.
---
3. Meet your friendly marketplace elves
Another way to illustrate the comparison is by explaining the different roles. Just like in a physical market, or even a shopping centre, there's a little team of people behind the scenes making sure everything runs smoothly. Here's the Hello Pretty co-founders who are actively involved in the business:
Scott Hadfield
Scott is, among many, many other things, the web developer. Think of him as the builder and maintenance guy all rolled into one friendly package. Lights, plumbing, electricity – he takes care of all that. He's responsible for the backend of the site, and building all of the nifty features.
You never think about where all the tables, lights, plug points and so on come from in a regular market, and it's the same with the site. Things are just there, and they work! Or if they don't, he shows up with a toolbelt and lumberjack shirt (he is Canadian but will deny ever saying 'aboot') and fixes things.
He also takes care of Hello Pretty's very complex finances, its coffee needs, and, well, more things than we can list here. He is everything.
Samantha Marx
Sam is the designer is the talented and artsy person that created, implemented and maintains the site design. That rippling body of a website that Hello Pretty is? Well, same made it's skin and applied it's makeup. She is also involved in a variety of other design and social media tasks, and banners, social media posts, some creative copywriting, occasionally a little coding here and there, and generally makes sure the whole shebang looks kinda nice. The beautifully designed Hello Pretty website? The Facebook banners? The neatly laid out help pages? That's her.
She is the one making sure that all things Hello Pretty look, well, pretty. She likes shopping, design and cute small animals, especially cats. She's placed 71 orders on Hello Pretty.
While the idea of an online marketplace is nothing new, it's still unusual to a lot of South Africans who are used to buying from online stores (such as Yuppiechef or Takealot). Since a marketplace eliminates a lot of the logistics that limit online stores, Hello Pretty can offer you many thousands of great products from thousands of highly talented, and often internationally sought-after, South African designers.
And you can buy in your PJs – something which markets have sadly yet to allow.
---
With grateful thanks to Menno Gazendam for generously providing this advice for Hello Pretty sellers. Menno is an engineer by day, launches side projects by night and travels in between. He is often described as "intense". Read his blog here or follow him on Twitter at @mennogazendam.