If you want to run a promotion in your store and you're on the Standard plan, you'll have the option to create a gift voucher that will work only for purchases made from your store, and no other stores on Hello Pretty. This is a feature available to users on standard and higher plans.
Here's how you do it:
Step 1 – Go to your voucher listing
When you're logged in, hover the Store Management link in the green seller's menu bar, then click the Gift Vouchers option.
Step 2 – Click that tempty button
When you're on your store's vouchers page, it will show you a listing of all vouchers you've previously created (with the options to edit / delete them), and you'll also see a button for you to add a new voucher. Go ahead and click that.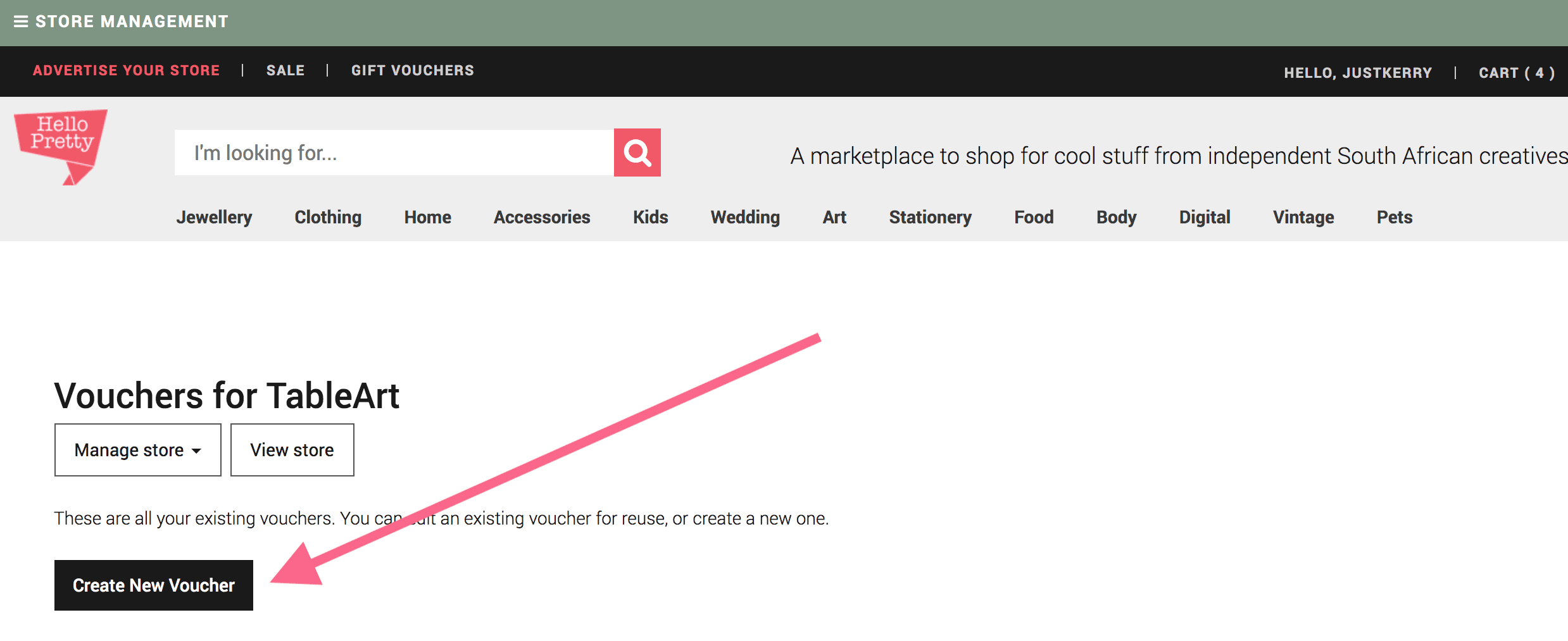 Step 3 – Fill in all the things
This is what the voucher generation form looks like.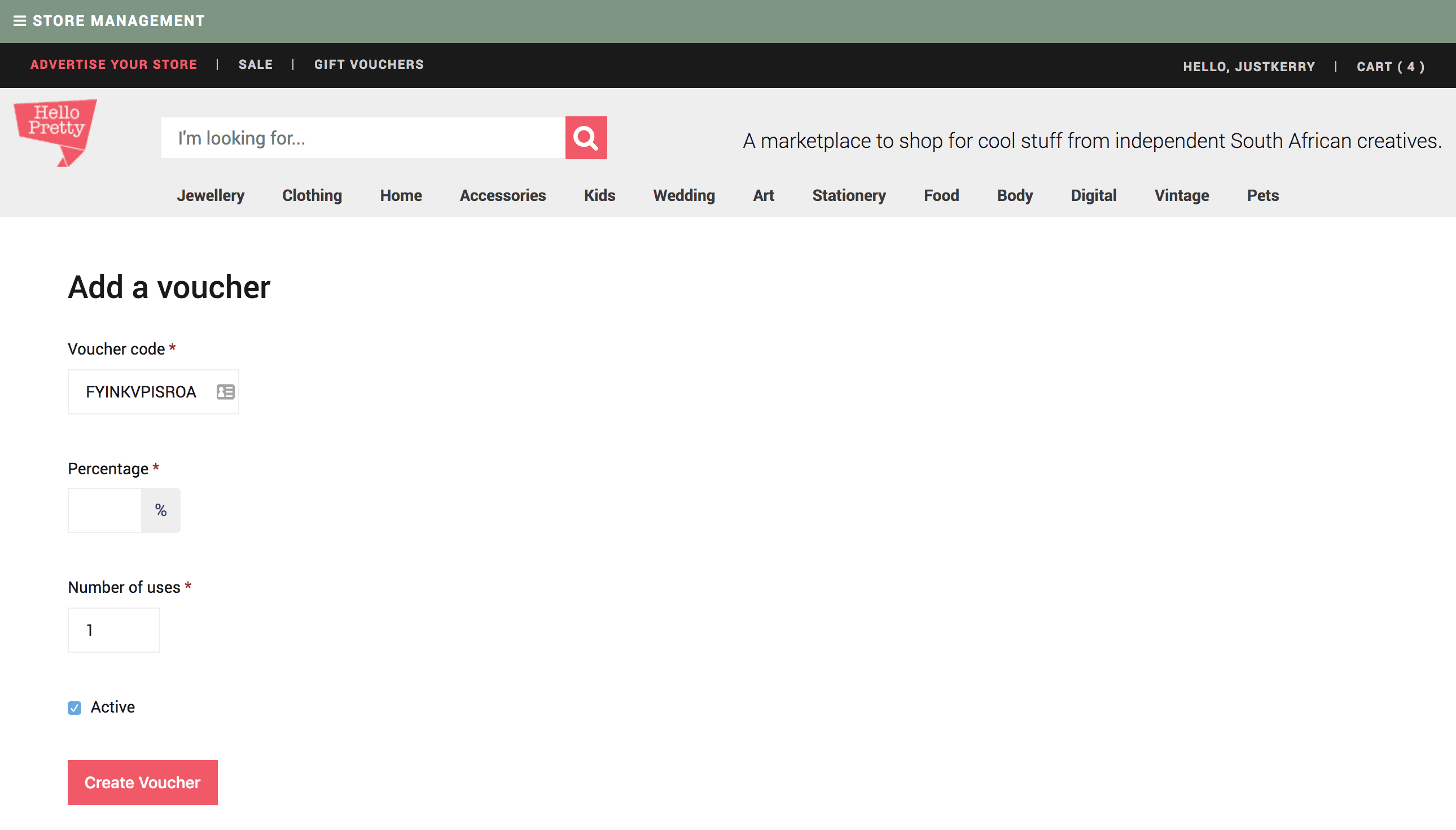 Voucher code: Our industrious little voucher elf will have automatically generated a voucher code for you. But it'll be an ugly one… you can change it and make that code be whatever you want it to be! Maybe you want to keep the randomly generated string, but maybe you want to make something relevant to your promotion. Eg, HELLO-PRETTY-TURNS-SEVEN–WHOA-NELLY. Maybe the voucher is for someone you're not fond of – you could make their code be JERKFACECOUPON. The possibilities are endless. Own your freedom.
Percentage: Set a discount percentage – this is the value that people will save off of your product's listed price when they buy it. Only percentage discounts can be created, not rand amount discounts.
Number of uses: you can either set an arbitrarily high number if you want it to be used by as many people as possible, or limit it if, for example, you want to do a promotion where only the first 10 or 50 or 100 buyers can use the discount.
Active: If this box is checked, it means that your voucher is open for business and whoever has the code can use it. When you're done with your promotion, you can disable it from the listing on your vouchers page with the intuitively-titled Disable link. 
Step 4 – Manage your vouchers
Nothing lasts forever, and your Hello Pretty vouchers are no exception.
You made them, and you're the boss of them. Edit them, disable (pause) them, or get crazy and flat-out delete them.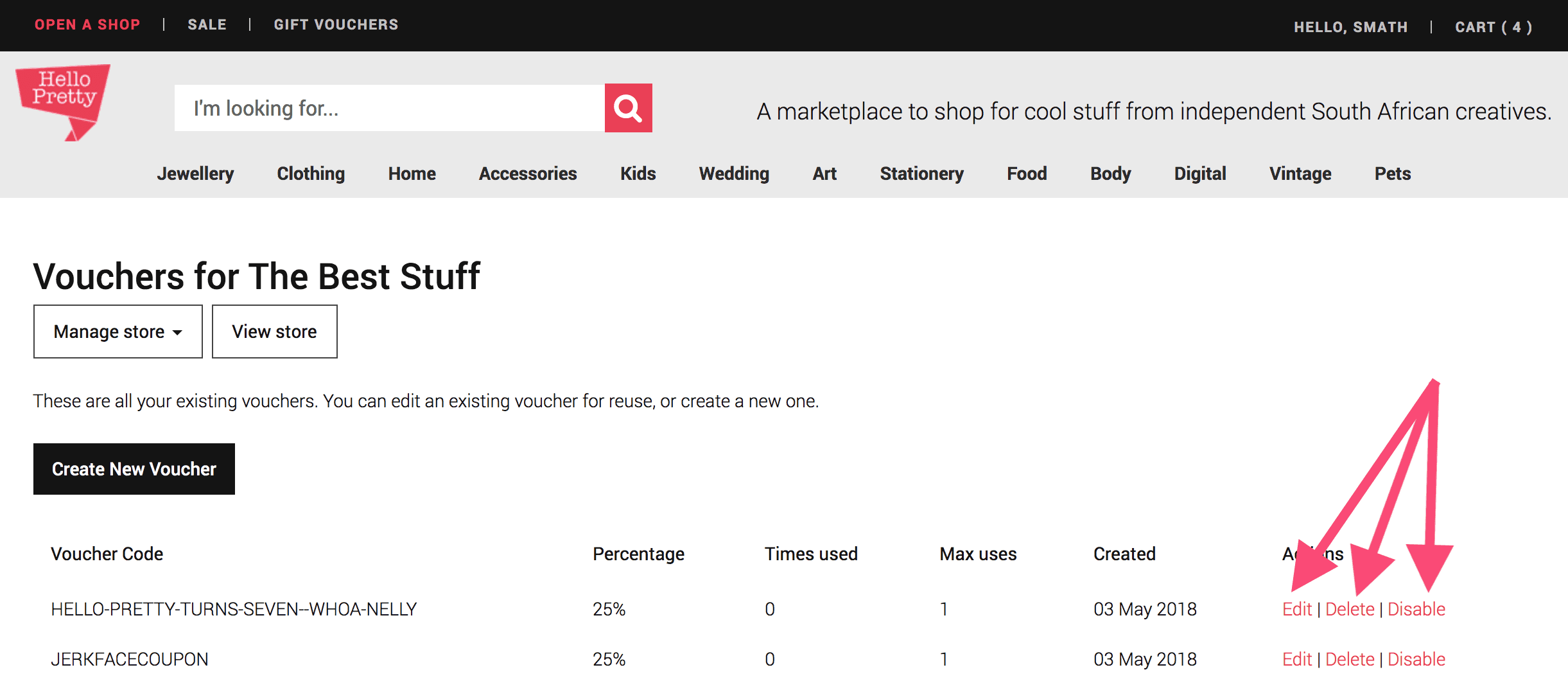 Step 5 – Go forth and share!
Now that you've created a voucher, promote the heck out of it to your followers (Instagram, Facebook, Twitter, email), and remember to include the voucher's code in your marketing. 
You might want to include an instruction that lets your rabidly sale-hungry shoppers know to enter the voucher code on step three when they're checking out. Nobody wants a pitchfork-wielding angry mob turning up in their email demanding discounts.